CERTIFICATIONS: WELDING PER AWS D9.1
Titanium component welded in a vacuum chamber.

Gas Manual Arc Welding (GMAW) per AWS D17.1

Tight tolerance CNC turning of aerospace components.

Aluminum duct assembly Welded by NADCAP approved welders.

Aluminum Precision Aerospace Tooling component

Aerospace Precision Welding Repair

Resistance spot welding of aircraft parts.

GTAW (Gas Tungsten Arc Welding) per Mil-W-8611 of stainless steel fuel system components.

Manual Gas Tungsten Arc Welding (GTAW) per Mil-STD-2219 Stainless Steel Class A.

Helicopter control arm

Bearing Installation Heater

Assembly fixture using high-precision Wire EDM machined components.

Test Rig built by Lynn Welding

Wire EDM machining in aluminum medical component.

Approved Welding Per AWS D9.1
Raytheon Approved Fusion Welding
Certified By: Raytheon
Certification: AWS D9.1
Short Description: Sheet Metal
Process Code: D9.1/D9.1M:2018 Sheet Metal Welding Code
Specification Title: Sheet Metal Welding Code
This code covers the arc and braze welding requirements for nonstructural sheet metal fabrications using the commonly welded metals available in sheet form. Requirements and limitations governing procedure and performance qualification are presented, and workmanship and inspection standards are supplied. The informative annexes provide useful information on materials and processes. International Standard Book Number:
Related Services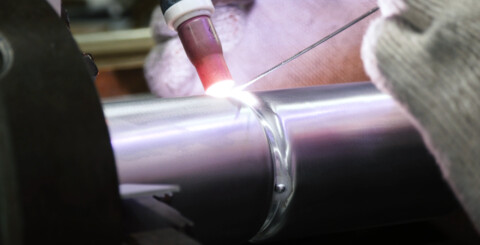 Fusion Welding per AWS D9.1
Lynn Welding's reputation really comes to light when you see the weld bead produced by one of our certified welders. Gas Tungsten Arc Welding (GTAW) is one of our specialties. Our experienced welders follow all of the NADCAP requirements needed to ensure a quality weld. Whether we are welding aluminum or stainless steel, rest assured that the end result will be well within your tolerances and the weld will be of X-ray quality. Because Lynn Welding is NADACP accredited we must follow a very defined and strict set of guidelines when welding our customer's components. These guidelines ensure that our qualified welders are tested regularly in all metal groups to ensure that their welding skills remain intact.