CERTIFICATIONS: WELDING PER HS 3944
Titanium component welded in a vacuum chamber.

Gas Manual Arc Welding (GMAW) per AWS D17.1

Tight tolerance CNC turning of aerospace components.

Aluminum duct assembly Welded by NADCAP approved welders.

Aluminum Precision Aerospace Tooling component

Aerospace Precision Welding Repair

Resistance spot welding of aircraft parts.

GTAW (Gas Tungsten Arc Welding) per Mil-W-8611 of stainless steel fuel system components.

Manual Gas Tungsten Arc Welding (GTAW) per Mil-STD-2219 Stainless Steel Class A.

Helicopter control arm

Bearing Installation Heater

Assembly fixture using high-precision Wire EDM machined components.

Test Rig built by Lynn Welding

Wire EDM machining in aluminum medical component.

Approved Welding Per HS 3944
Collins Aerospace (Hamilton Sunstrand / UTAS) Approved Resistance Welding
Certified By: Collins Aerospace (Hamilton Sunstrand / UTAS)
Certification: HS 3944
Short Description: Resistance Welding
Process Code: HS 3944
Specification Title: HS 3944
Related Services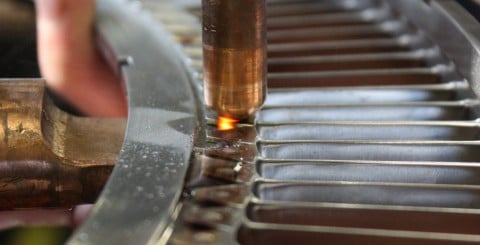 Resistance Welding per HS 3944
Lynn Welding provides resistance welding services to many of its customers. Lynn Welding uses SCIAKY welders which are considered the best in the world for maintaining the strictest tolerances required by the aerospace industry. Our SCIAKY welders are capable of welding aluminum, Stainless steel, Titanium, Inconel and most other metals while maintaining the proper conditions to ensure a quality weld. Our resistance welding operations are closely monitored by our internal quality department which ensures that all of the resistance welding functions fall within the guidelines set forth by NADCAP( National Aerospace and Defense Contractors Accreditation Program) and AS 9100.