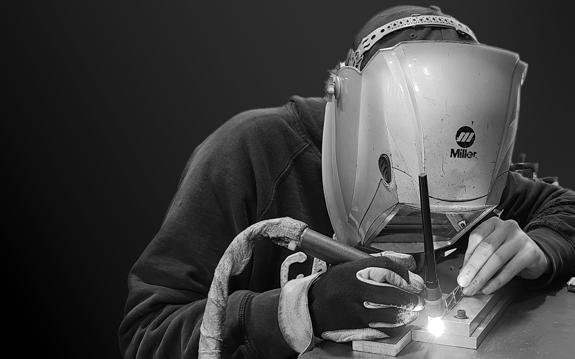 WELDING EXPERTS
OVER 40 YEARS OF SERVICE
Nadcap Approved Welding
Lynn Welding Advantage
Aerospace Welding Experts
Aerospace & Defense Fabrication
Precision Machining Services
Offering Nadcap approved welding services for most aerospace primes
Lynn Welding has 16 NADCAP-approved welders and 18 Nadcap-approved resistance spot welding machines. We have an excellent reputation throughout the aerospace community, and we are known as the most responsive and transparent welding company. Lynn Welding has certified welding inspectors (CWI's) on staff which is now becoming a requirement from various aerospace primes.
Delivering certainty and offering personalized, proactive solutions
At Lynn Welding we are trained to be extremely receptive to the needs of our customers. We understand that in order for Lynn Welding to stay successful we must always strive to help our customers achieve their goals. Whether our customers call for a NADCAP accredited welding procedure or a custom machined part, they know that our goal will be to understand their requirements and fulfill their needs.
Providing quality welding, machining, and fabrication services since 1979
With over 40 years of service, Lynn Welding has become of the most well-known names in welding and machining for the aerospace and defense industries. Since our start, we have increased our capacities, expanded our list of certifications, and, diversified our offerings. Our team has grown exponentially and we have had the opportunity to take on some of the most qualified, highly skilled welders in New England.
Precision fabrication services with a focus on our three core functions
Lynn welding's full-time staff of machinists have decades of experience in programming and operating CNC and manual equipment. Our machinists are capable of running highly complex and dimensionally critical parts of most standard and exotic metals.
World-class machining services
Lynn Welding's military fabrication solutions are aimed at supporting various government programs such as GSE, armored vehicle components, defense systems components, and aerospace components.
"Things went very well with these parts in fact we just shipped them to our customer yesterday on time. Any time I have had a need for information I have gotten timely responses which helps me tremendously as I am called upon daily to status parts we have on the outside. "
"I appreciate your attention to detail, and your ability to get our parts through quickly and efficiently. You've helped us out with multiple situations."
"I just want to let you know that you have a very good team at work. It's always a pleasure to make business with your company. Your team always gives me feedback before I have to ask"
Our services
Provided High-Quality Welding, Machining, & Fabrication Services Since 1979.
OUR SUCCESS
In the last decade Lynn Welding has
Contact us
Request a Quote
Please use the form to the right to contact us and we'll be sure to get back to you with an answer to your question or request for a quote
If you prefer you may also contact us by using the information below.
39 Progress Circle, Newington CT 06111